Environmental library interior design
Environmental library interior Design
When we engage with library design and refurbishment projects, our goal is to propose interior solutions and products that minimize environmental impact.
It is our goal to offer a wide range of products and interior design solutions that revolve around circular design, responsible sourcing, and sustainable manufacturing.
All of our projects are designed with a focus on longevity, and we often reuse existing elements, products and equipment to provide solutions for updating interiors. Upcycling products can often provide a new life to a space and if reused with care, can add an element of fresh familiarity to an environment.
We have collected a number of example projects that we have renovated and upcycled.
Horsens Library, Denmark
The re-design focus of Horsens Library was to retain and upcycle the "striking" yellow shelving! By wrapping the shelving with anthracite grey panels, we created a modern contrast between old and new.
We introduced new anthracite and oak mobile, modular display podiums, timber flooring, and foil graphics to the walls showing forest scenes to the adult areas, and images of cabins and wildlife to the children's area, all with a view of introducing a biophilic element to the library.
Interplay between the new elements and strong colour pallet defines the yellow shelving as a key element in the new scheme. It adds continuity throughout and ties the new, modern, natural narrative together.
In many library environments shelving plays a key part in creating space, housing stock and making a library feel like a library. In most cases not only does it account for a large part of a project budget, but manufacturing shelving also consumes large amounts of raw materials and resource and thus has a large bias on end-of-life carbon impact. This said, it is important for us as responsible manufacturers to consider these carbon impact savings and use these opportunities to introduce future proofing elements to our designs by integrating responsibly made materials and products with existing elements – look at the end game, not just the bottom line!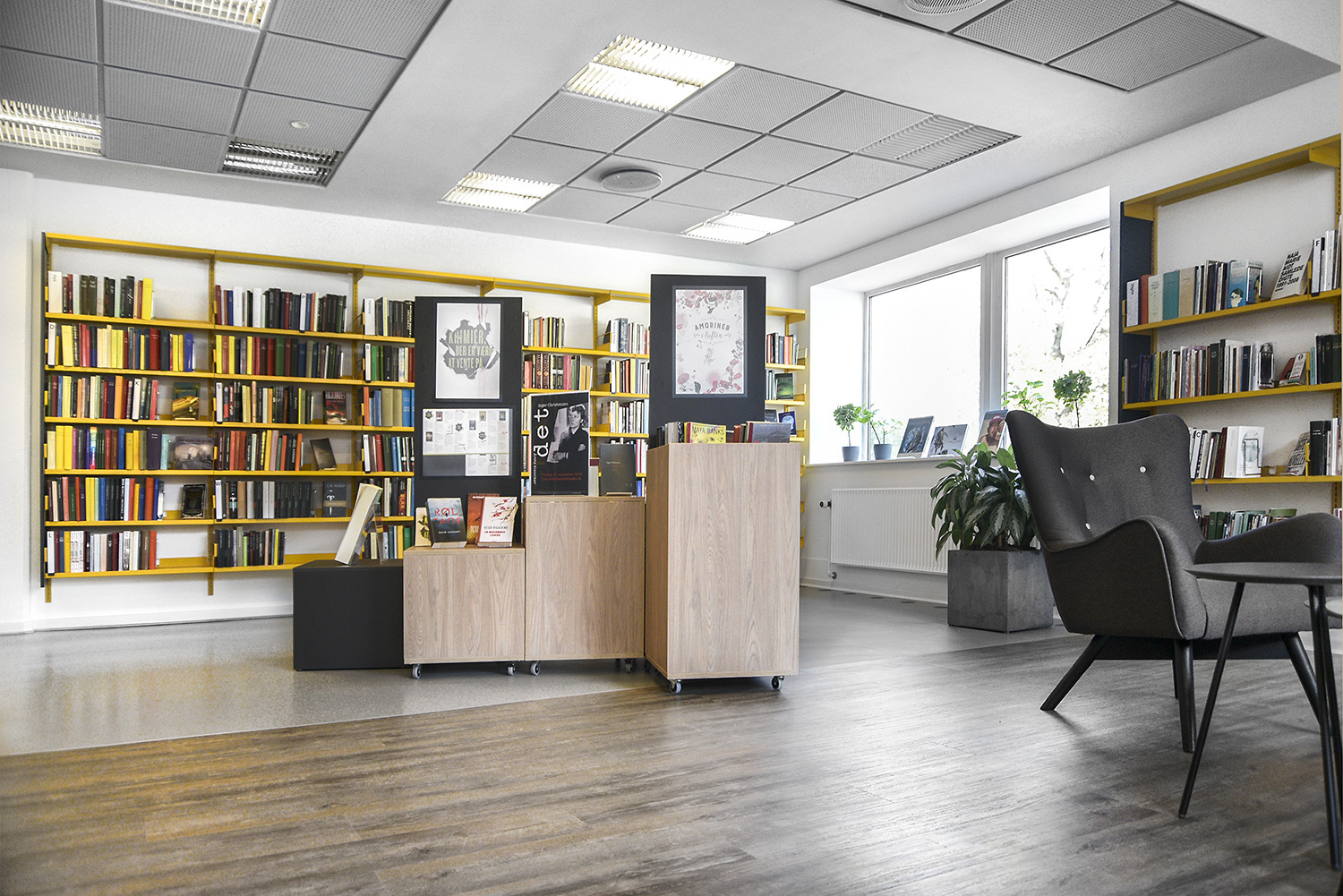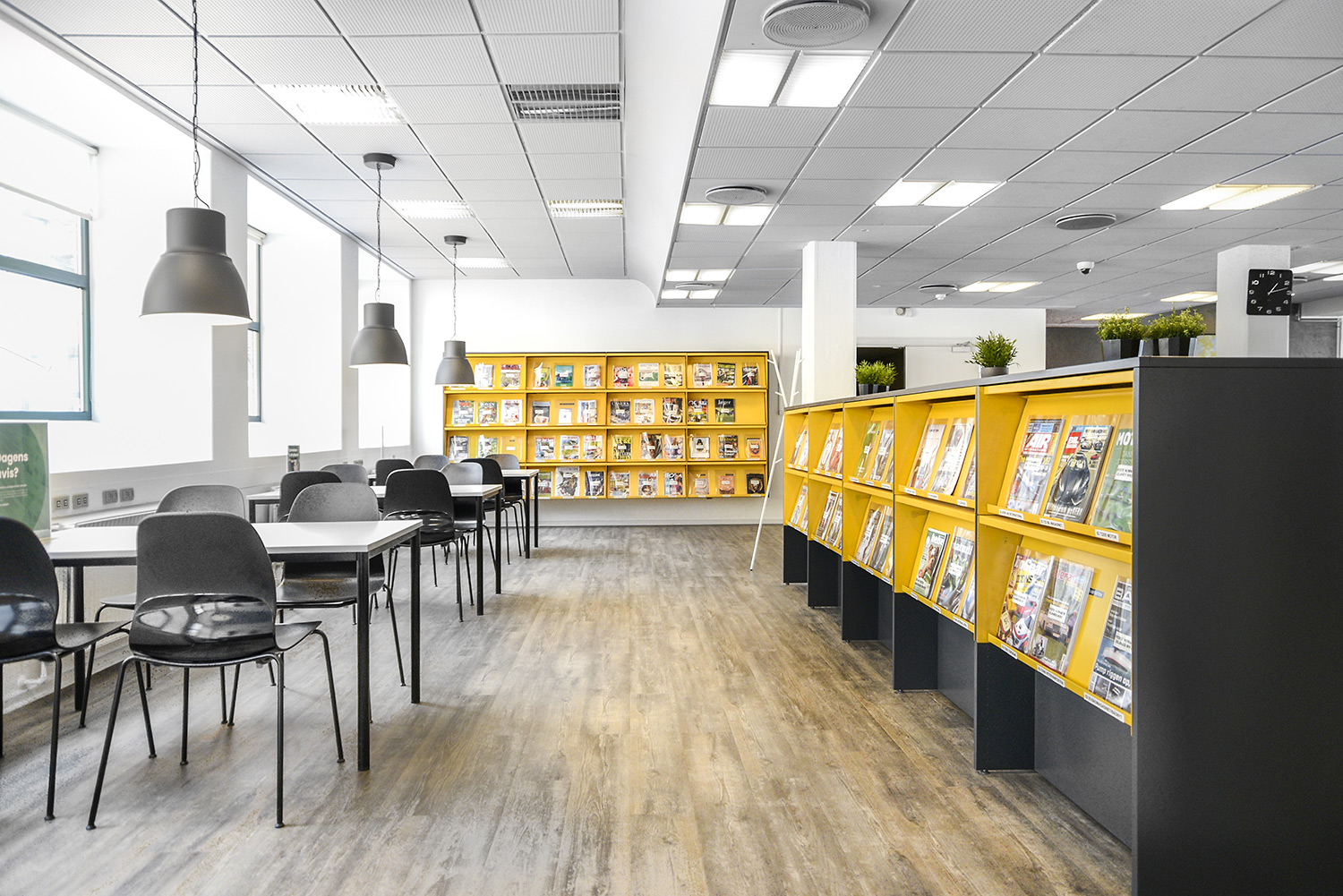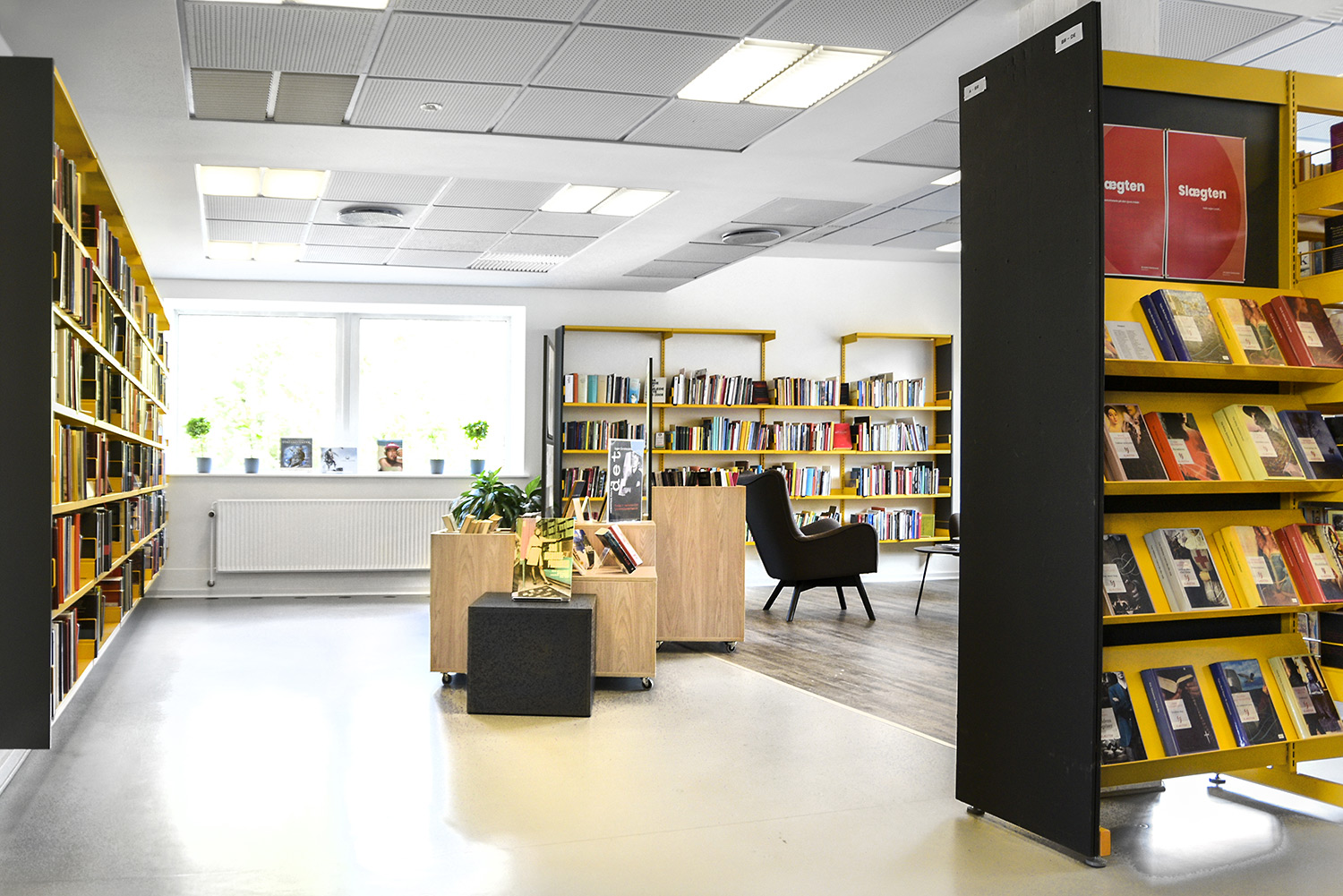 Bromley Library and Business Hub, UK
In 2021 we worked closely with GLL to design Bromley Library and Business Hub with sustainability at the heart of the project brief and resulting refurbishment.
New sustainably designed and manufactured furniture was used throughout the library whilst existing shelving was upcycled using sustainable materials to re-clad the shelving units. New end panels showing quotes and images from famous literary figures were added to modernise the shelving and overall library environment.
Continuing to respect the sustainability objective, much of the furniture provided was manufactured with a high level of recycled content and is de-constructable/100% re-cyclable at end of life, helping to meet both budget and sustainability goals.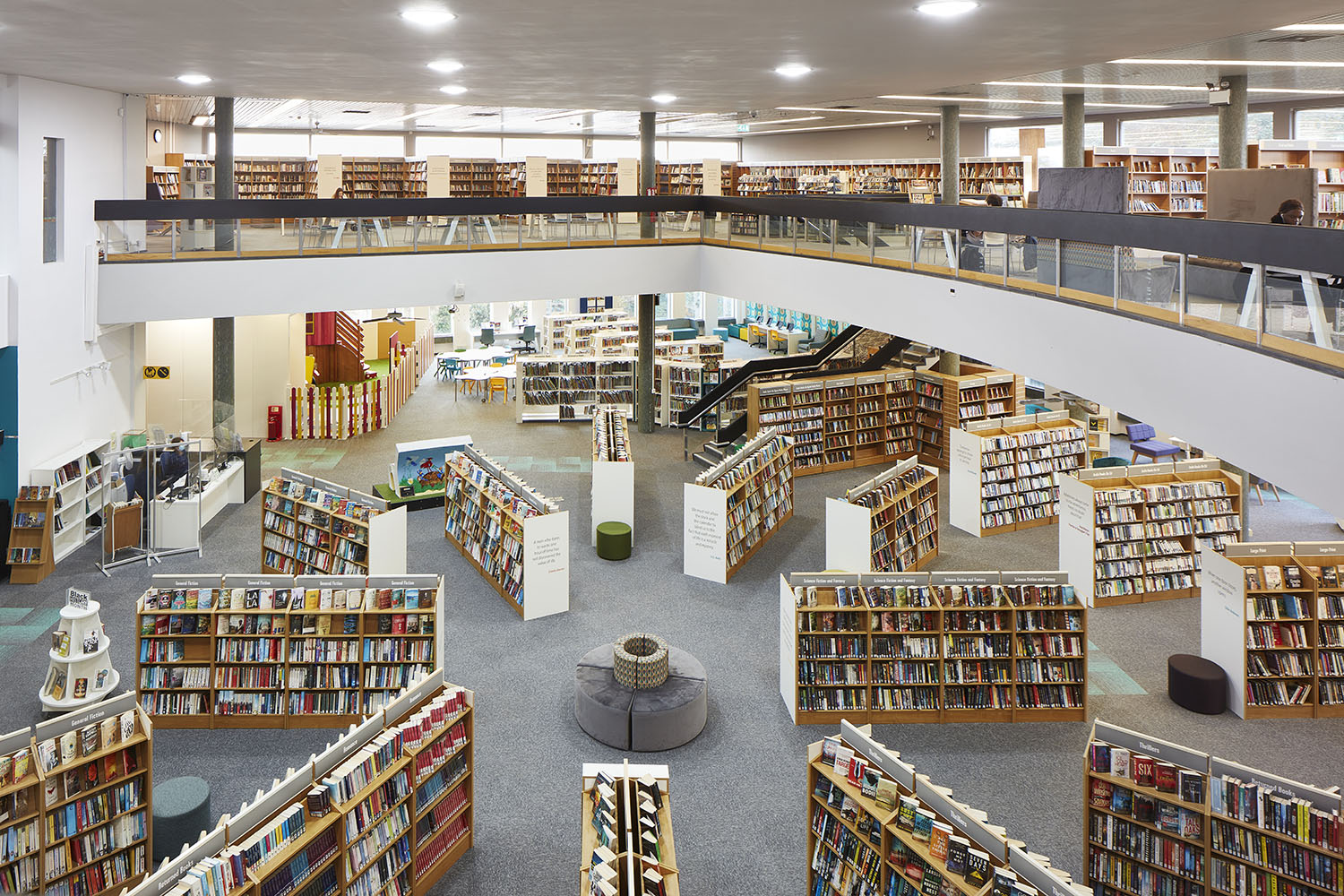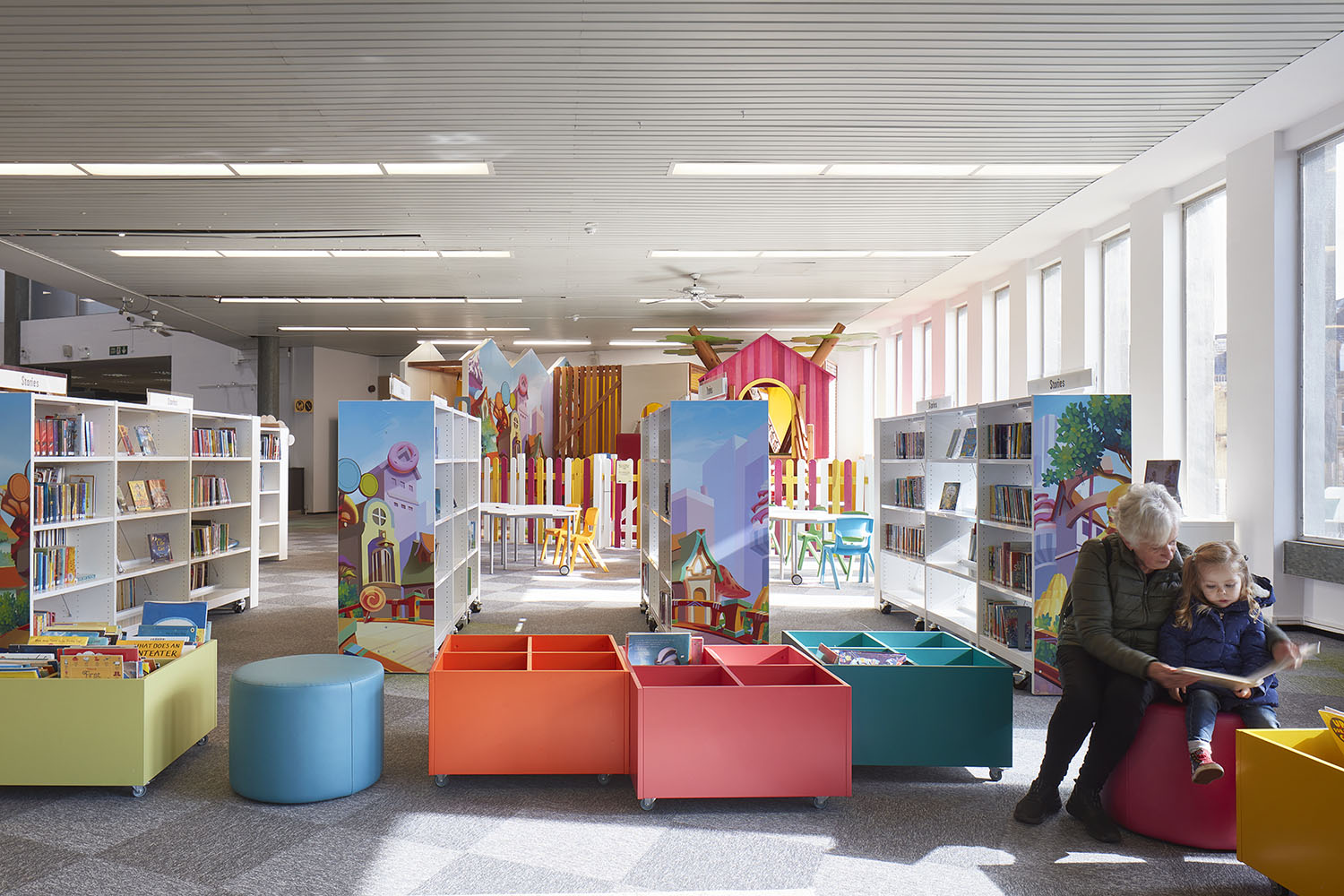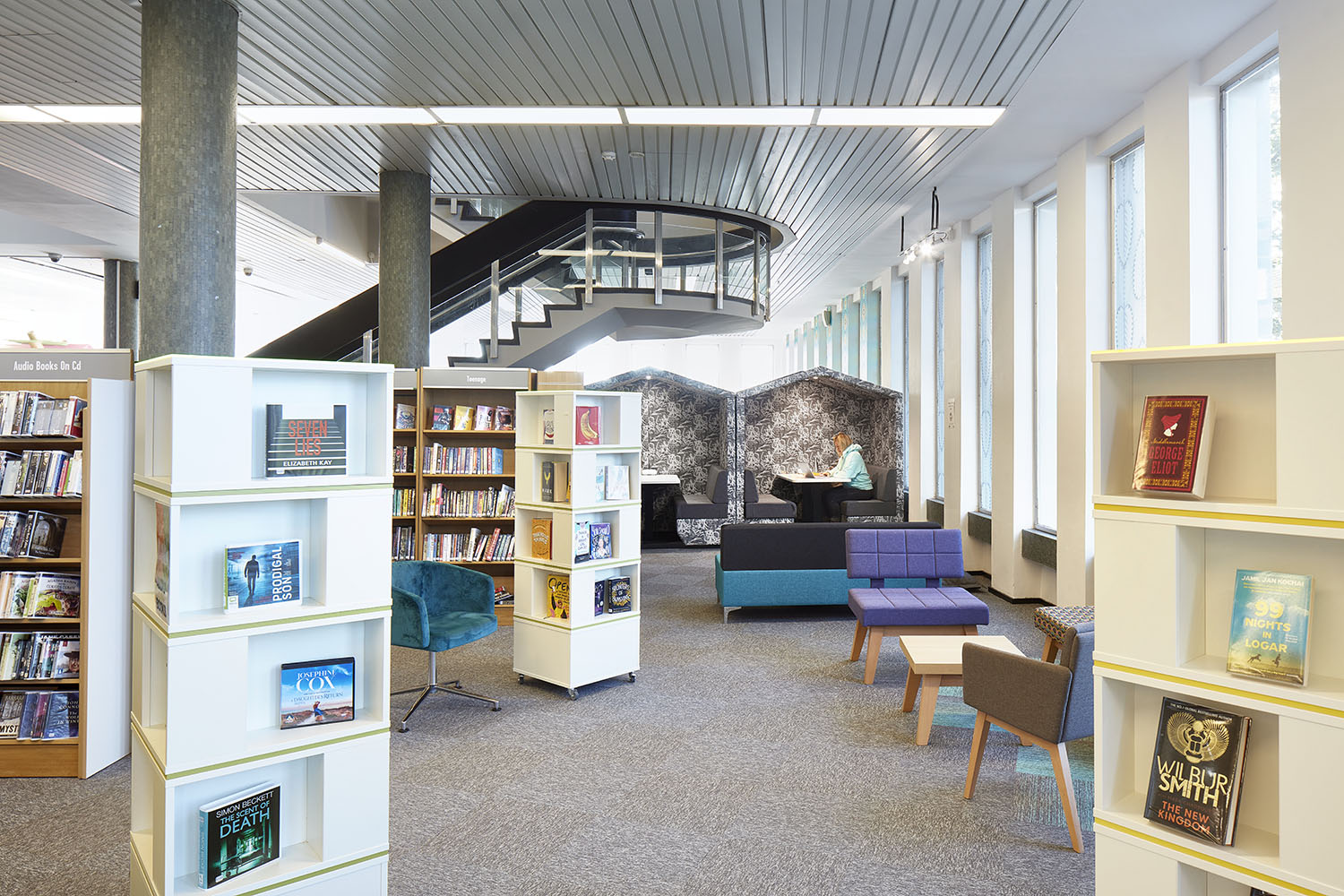 Svinninge Library, Denmark
Upcycling is not a new principle to us, its not a trend, a fly by night idea to win new business, it's the way our business works and why many of our customers work with us to meet their own budget and sustainability goals.
In 2016 Svinninge Library wanted to recreate its children's library. Working with existing elements we provided a new design which resulted in several exciting zones for living, playing, dressing up and collaborative areas for creative activities.
The existing, robust solid plywood shelving was combined with new materials and utilised to define spaces including play dens and a submarine! Rugs were added to soften surfaces and foil graphics to replicate aquariums and forest scenes.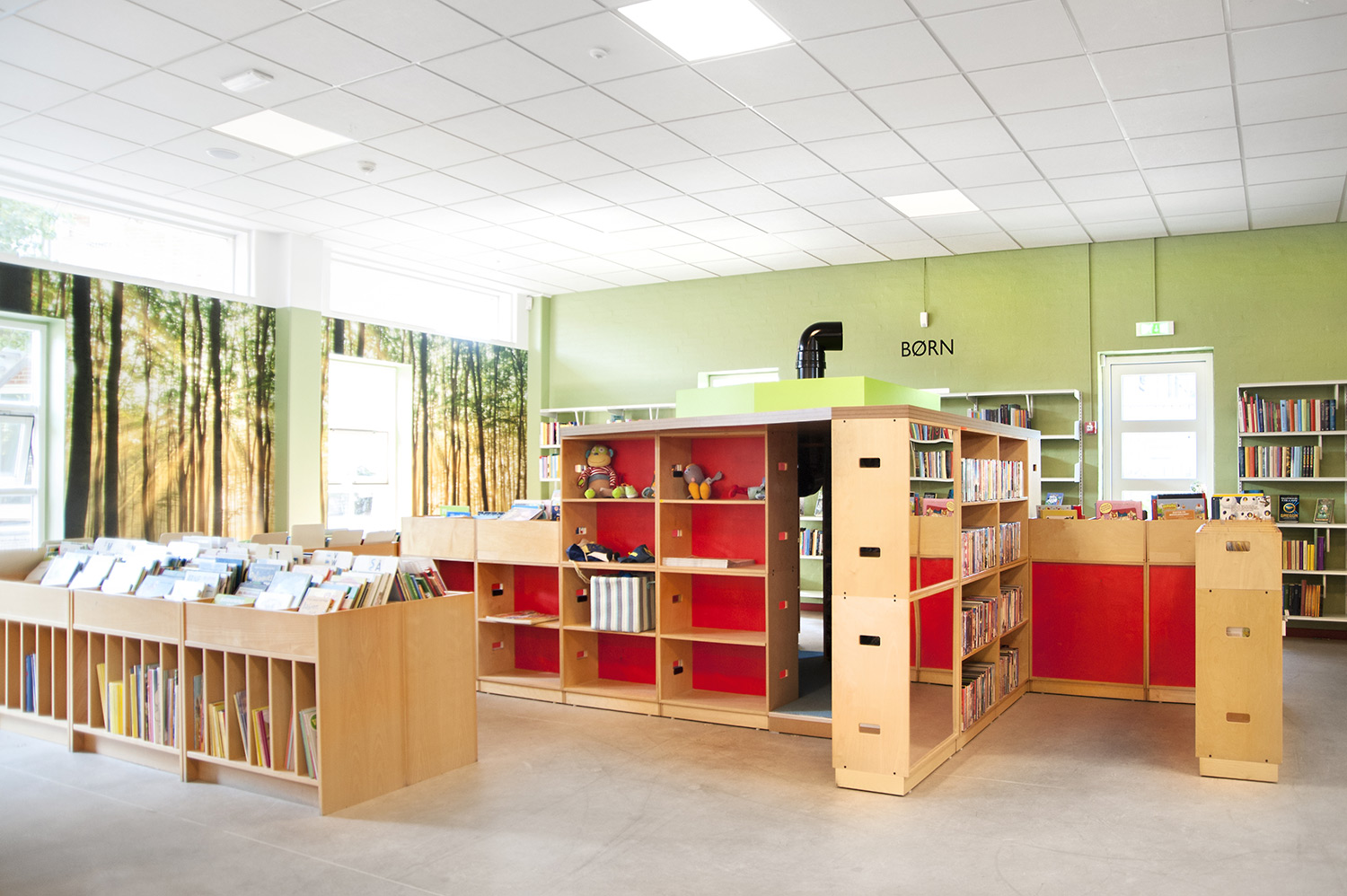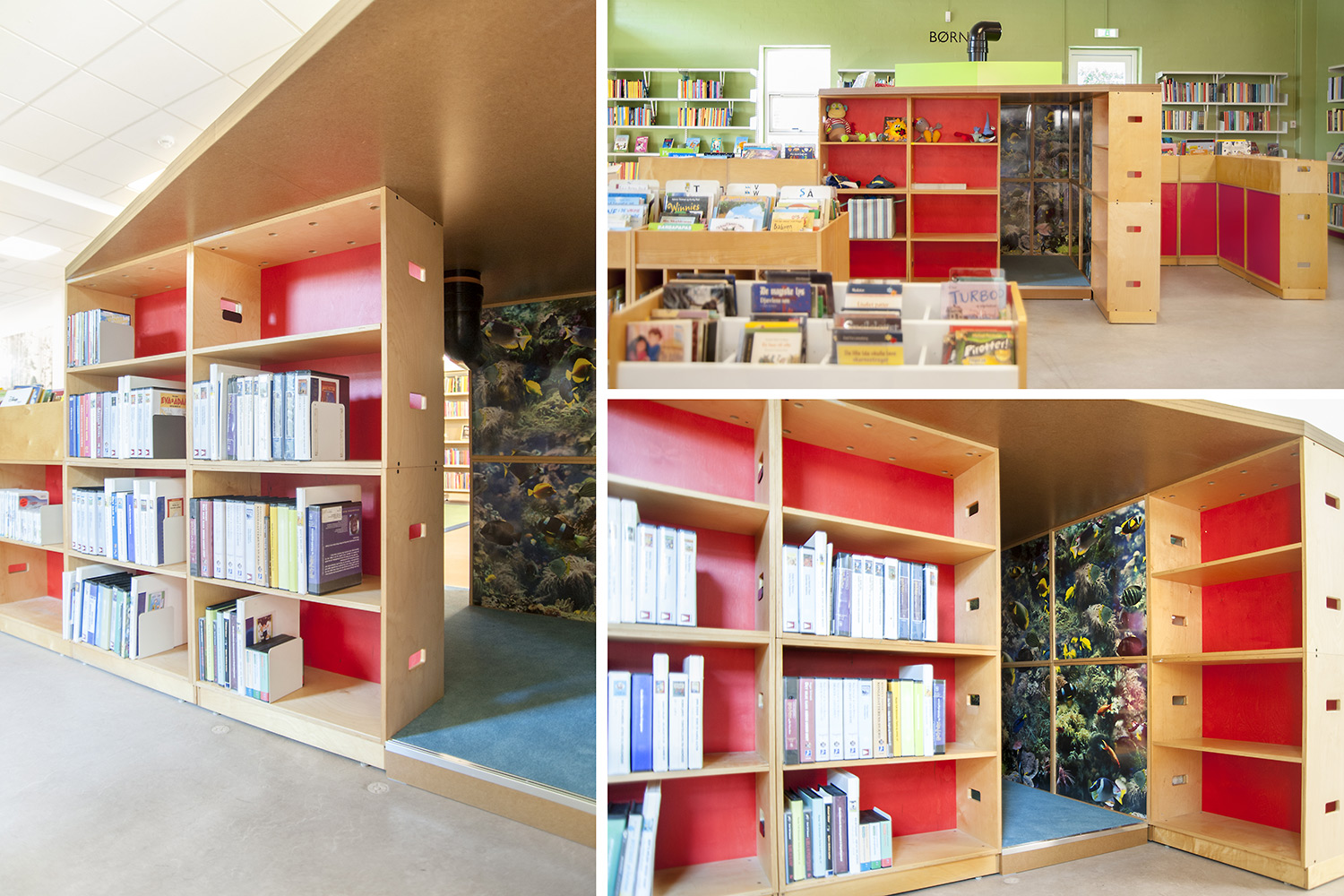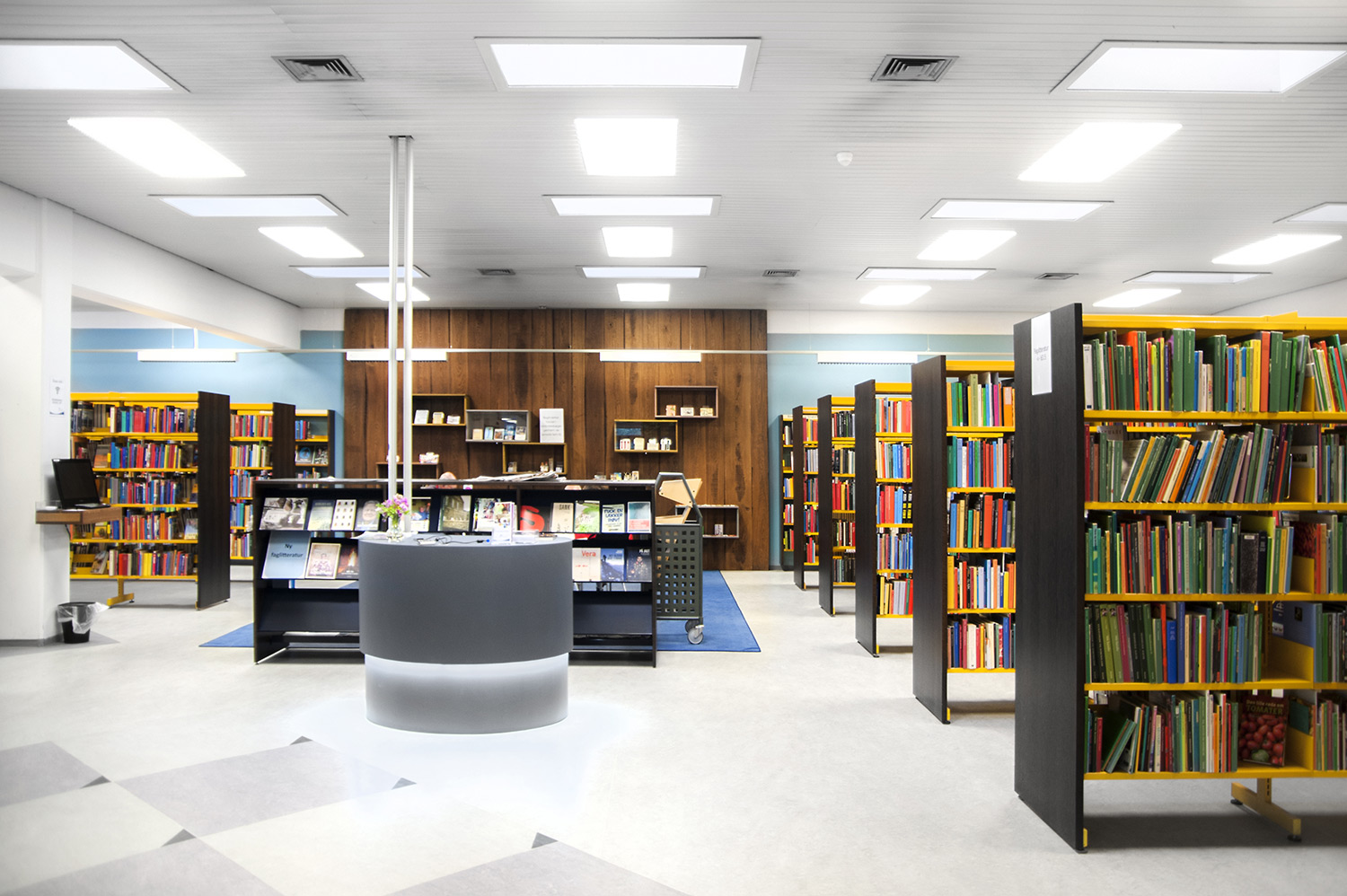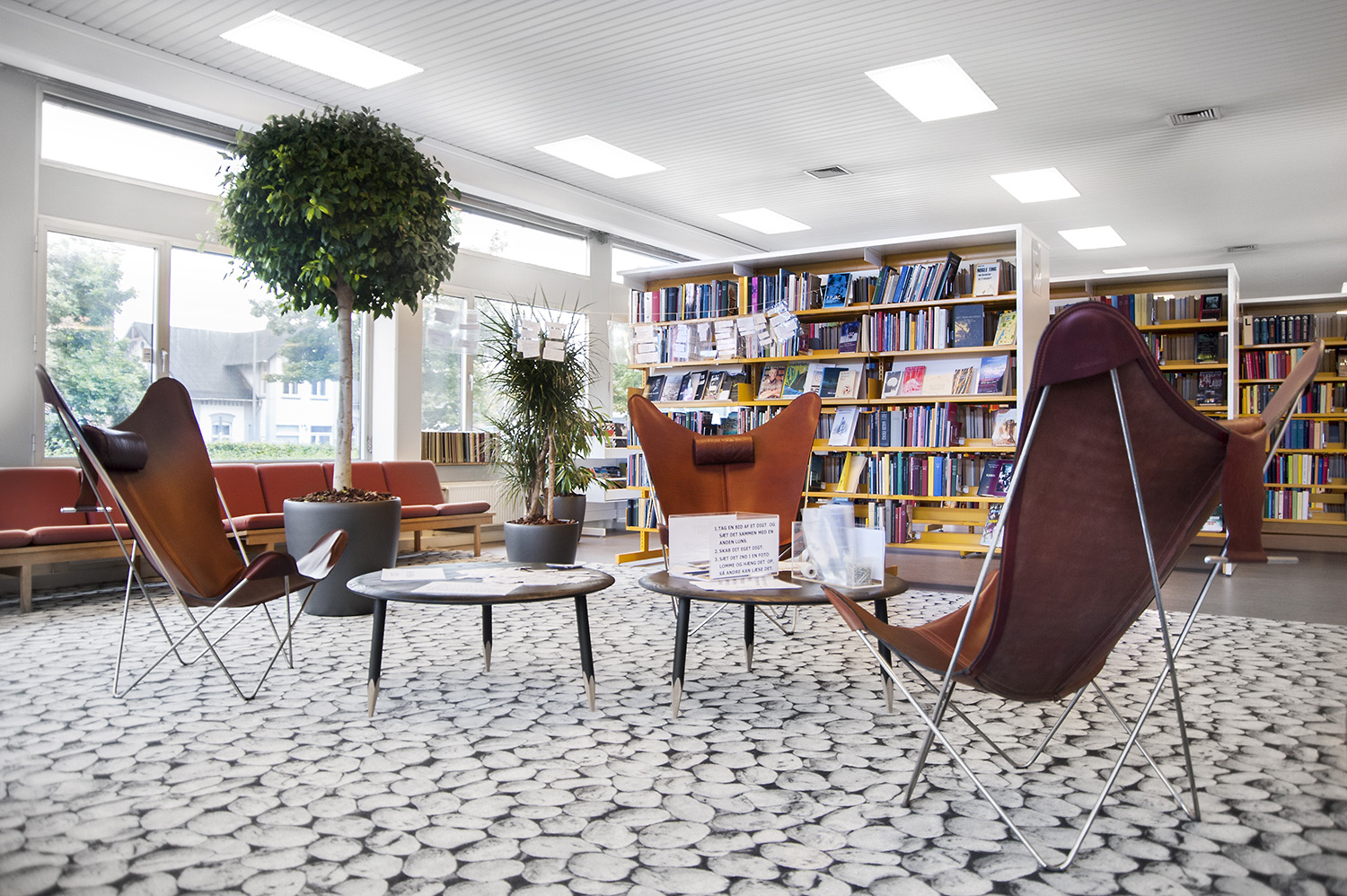 Aabenraa Library, Denmark
The Aabenraa Library project offered us the opportunity to up-cycle and combine contemporary laminate finishes to the high, impactful shelving and staff pods with the warm, soft timber building fabric finishes.
New specifications, strong colours and gloss levels were applied to create identifiable zones demonstrating how existing elements can combine with new materials and products to provide exciting new environments.
It also helped that we were working with classic, Danish designed and manufactured furniture!
Taulov Library, Denmark
At Taulov library, a simple upgrade of the existing red shelving with new gables gave the classic 60/30 steel system a new lease of life.
In the children's library, new side and front facing panels were added to existing picture book browsers. Combining these with the custom-made fairy tale houses we created new, fun, exploratory areas for the library's younger patrons!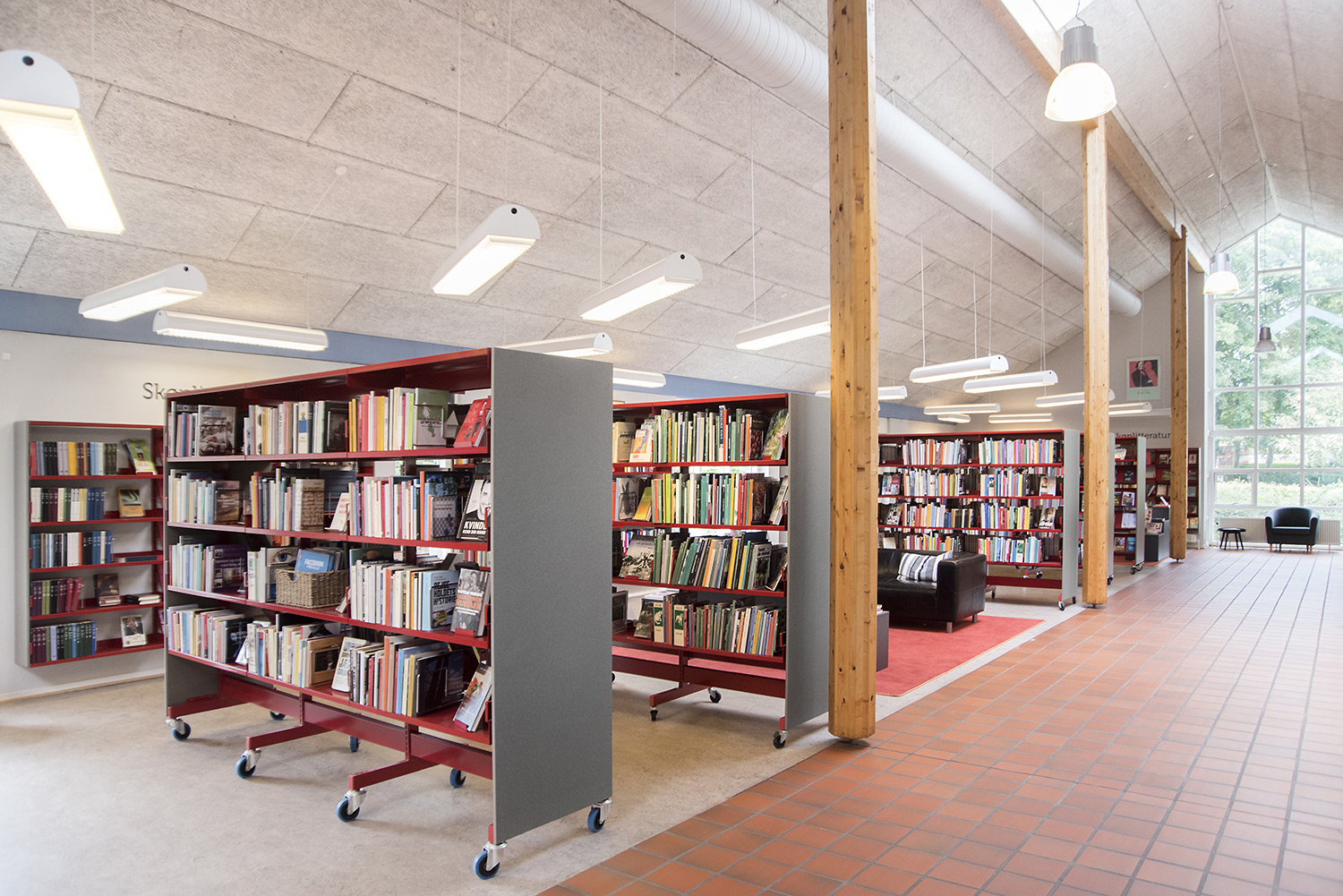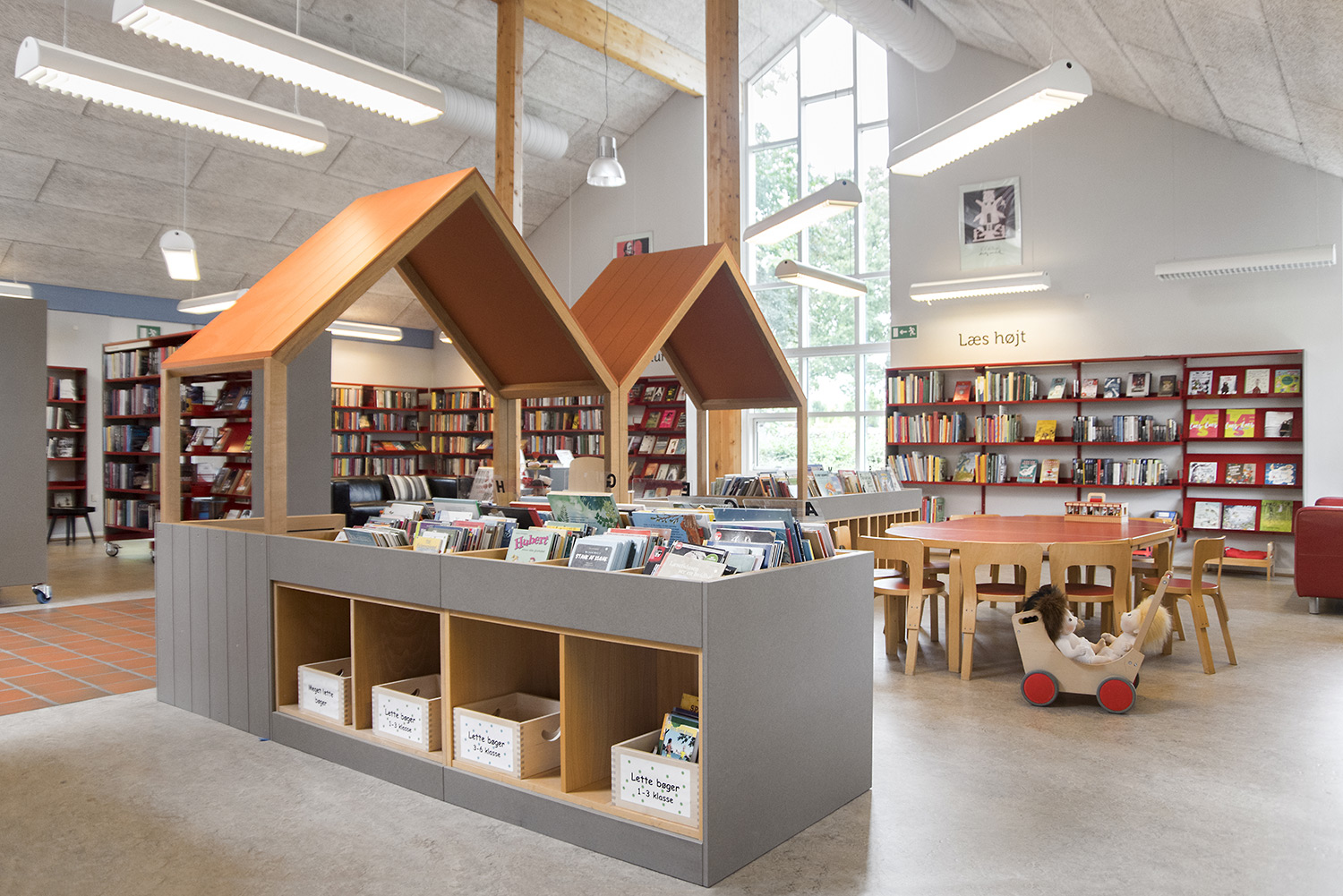 Sæby Library, Denmark
Paying homage to the quaint, coastal village of Sæby, the new children's library was designed and furnished to reflect local scenes.
Many custom-made elements were added including shops, a theatre and even a filling station (maybe we should convert this to a charging point!).
As part of the project, new cladding was added to existing shelving and foil graphics to shelving to work in tandem with the overall theme and becoming part of the landscape.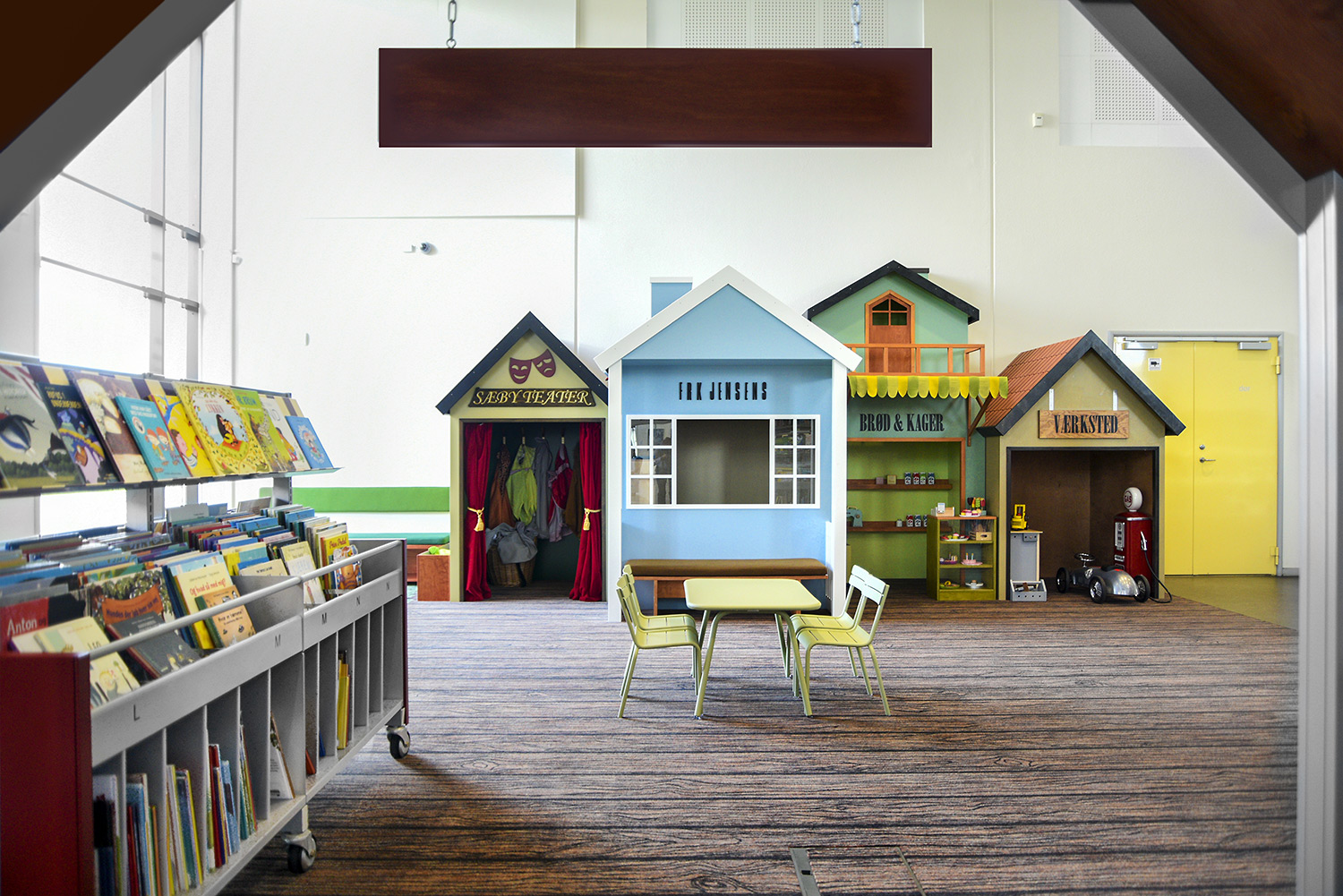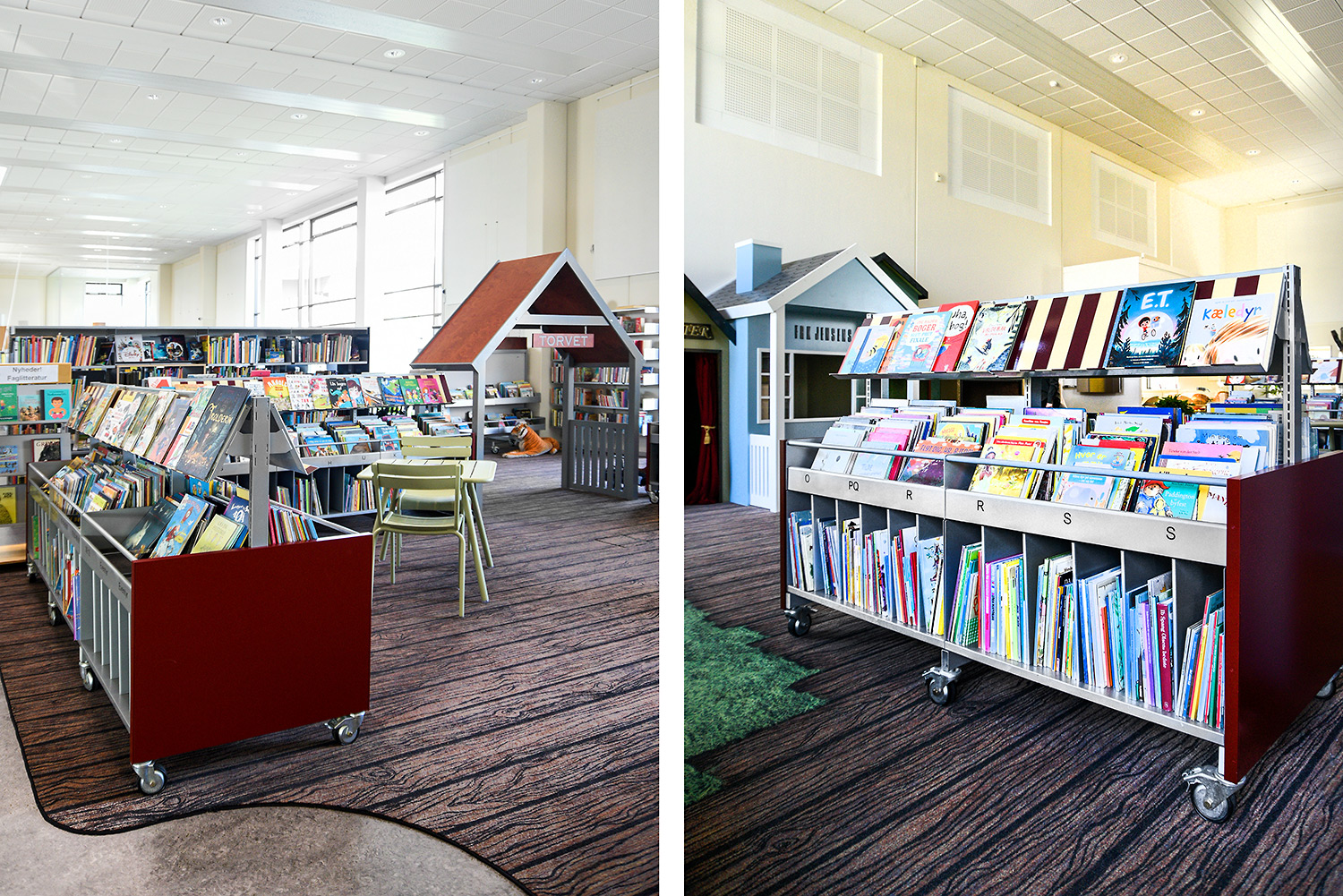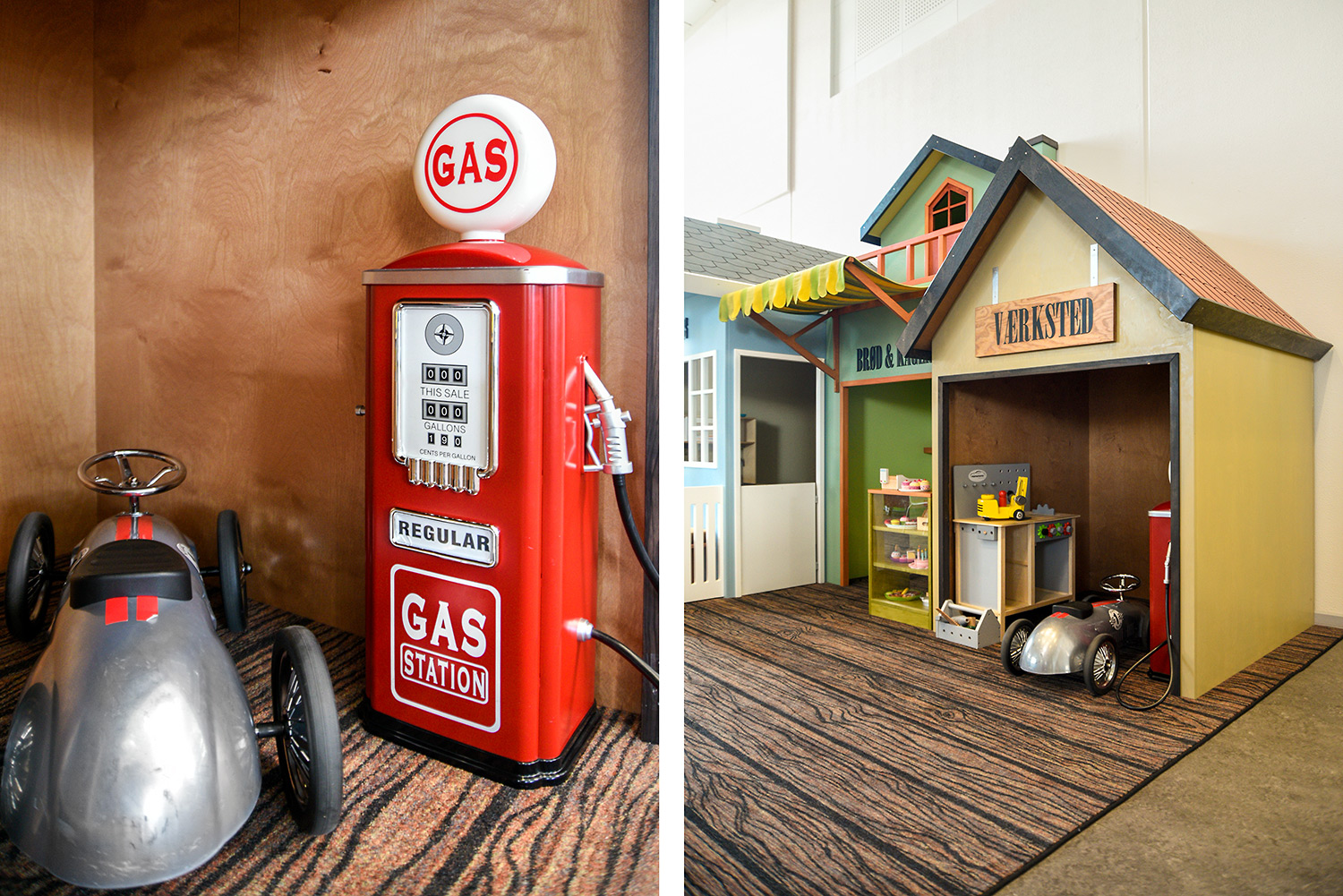 Environmental goals
We are constantly working to increase the proportion of environmentally certified products that are part of our library facilities.
One of our most used shelving systems, classic 60/30 steel shelving, is certified with the Nordic Ecolabel. The Nordic Ecolabel guarantees that the product meets strict environmental and climate criteria, thus reducing the overall environmental impact.
We also work continuously to increase the proportion of FSC-certified (FSC-C 144988) products in our range and thus support sustainable forestry for a better world.
> Read more about sustainability